B U R N  B O O K 
Etched in the flames of a blazing fire, burning to nothingness by the wayside of speculative eyes that watch close, but from a distance, is Burn Book: a collection of stories written for only flames to read, and ears to hear. 
As it turns out, Last Song I'm Writing was, indeed, NOT the last song AVE was writing. After teasing tracks all summer, rising indie pop artist AVE will be releasing her highly-anticipated, debut album, Burn Book, as the blue moon carries the wallows and shouts of ghouls and ghosts on Halloween night into the faint cries of souls reigniting on All Soul's Day, November 1, 2020. Rooted in Roman Catholicism, All Soul's Day is observed as a day of remembrance, a day to remember guilty parties who have passed away and are deemed to be damned to purgatory.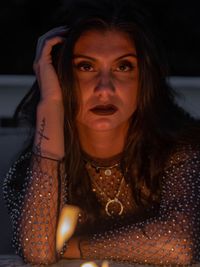 AVE, however, takes All Soul's Day and applies it not to the dead, but the undead. Releasing Burn Book on November 1, 2020, AVE reflects on each of those guilty parties whom the tracks are named after, and condemns them to a sort of mental and emotional purgatory–a doing away with, so to speak. 
The album kicks off with "Mr. and Mrs. McDonough" and "Meredith" to introduce listeners to a past relationship in chronological order, expressing feelings of empathy, sorrow, and the bidding of good will to those who "could've been.From there, the album begins to weave a storyline of love, loss, empathy, envy, and heartbreak through its sonic pages. Listeners will bite back tears to emotional ballads like "Joey" and "Kalagher," both used to bring awareness and express vulnerability regarding sexual assault. Lastly, AVE concludes the album with "Black Silverado," a cinematic anthem for the #MeTooMovement. "Black Silverado" brings Burn Book full circle and ties in elements from all of its preceding tracks, including orchestral, synthetic, and jazz elements as well as a rich piano melody to keep the song moving. Listeners who loved "Black Silverado" when AVE released an acoustic performance of it in August will swoon over it in its full form. The track will leave listeners aching and breathless all the way till the end, when AVE ignites her final flame–literally.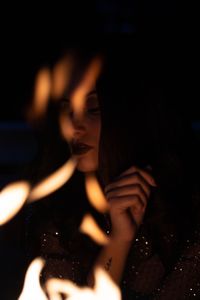 Burn Book closes with the lighting of a match right before the last note of "Black Silverado," signifying the burning of the book after its conclusion. AVE lights the match to bid farewell to the 8 souls that inhabit Burn Book, to purge them to the flames where they will forever reside. "Black Silverado" burns away as the flames encompass it, taking the rest of Burn Book with it as it returns to the dust. Listeners will sit on the edge of their seat listening for the last remaining remnants of Burn Book until it dwindles down beyond recognition, and until the pages are picked up and pieced back together in another life (or listen). 
Produced independently in Nashville, Tennessee, AVE worked remotely with producer and friend James Kennedy to create Burn Book. Through Zoom calls, FaceTimes, voice memos, and hours of hard work and collaboration, the two pulled off the album in its entirety in a month's time working virtually across long distance. 
Burn Book will be available everywhere when the clock strikes midnight on November 1, 2020. 
Shall you listen, you should hope to find your name in the acknowledgements, not on the track list. 
Photos by: Beibei Photography 
Written by: James Kennedy